Lil' Lördag or Hump Day!
We're open from 16:00!
Happy Hour until 19:00 plus our Burger & a Beer 200kr deal!

As always we are following all the recommendations, help us out by staying at home if you are not well, being seated when you are eating and drinking and not crowding or get too up close and friendly with each other and of course don't forget to wash your hands!
Times have Changed

Take home some of our delicious products!
6 packs of Pies, Sausage Rolls & Hot Cross Buns available
Click here for the full menu
Order by 9am ever Tuesday and they'll be ready for pick up on Friday

Call us on 08 641 89 28 to order
Events
Private party?
Looking for a place to launch your new product?
Business meeting? Need a screen and catering?
Lunch, 'fika' or dinner.
We have the space.
You can book our back room for events
Seating for up to 20 people
Cocktail & Mingle events up to 30
or
We can cater your event at your home or another venue
Call Kylie on 08 641 89 28  to discuss your needs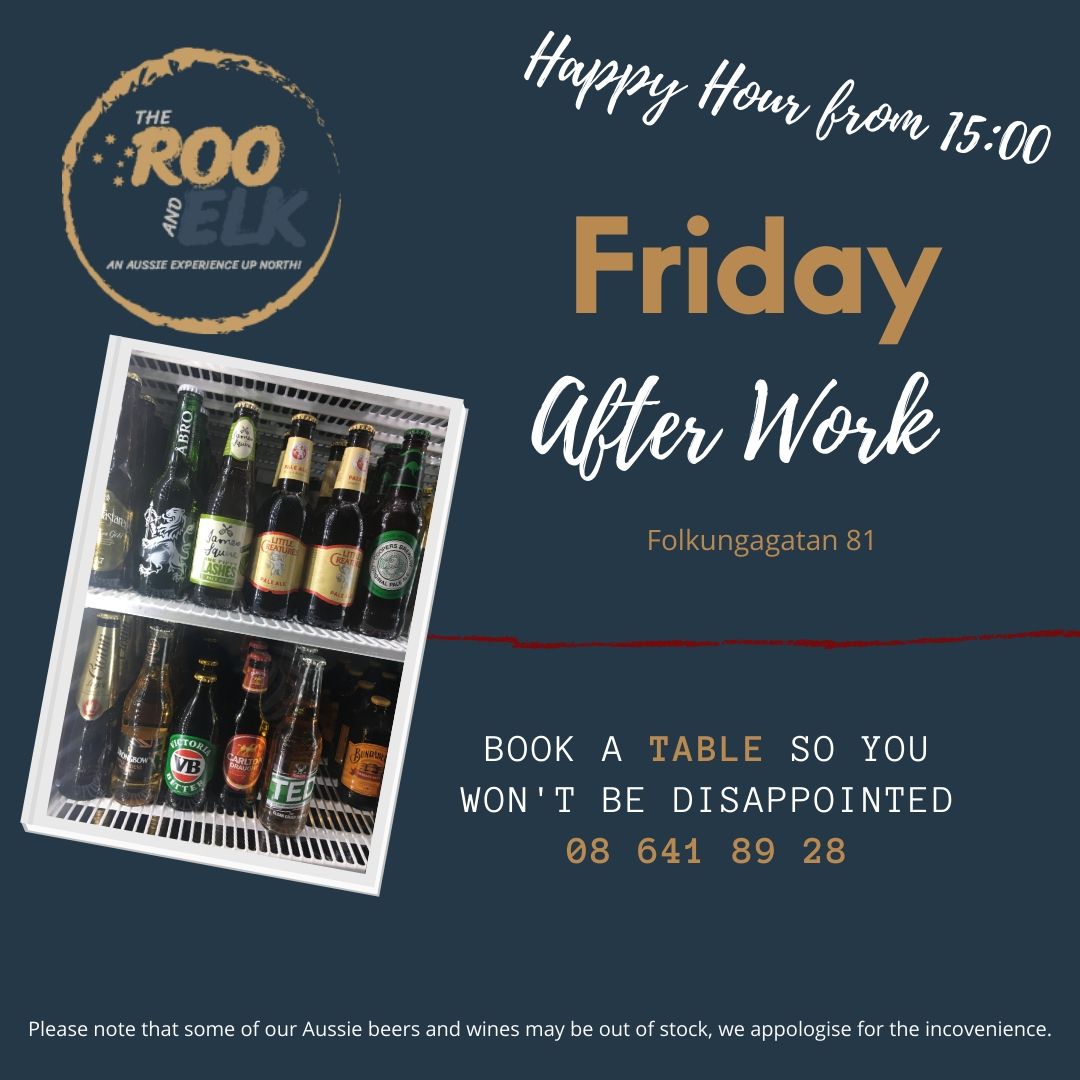 Table service only and no crowding of course!
Join us for an After work and a bite to eat!
Call us on 08 641 89 28 or book directly here
Cocktails
Available any time!
Alcohol free options too
Happy Hour
15:00 & 19:00
Stor Stark
Åbro 40cl
49kr
Glass of House
Red or White
70kr
Bottle of Åbro Alcohol Free Beer
47kr
From
17:00 & 19:00
Stor Stark
40cl Åbro

 49kr
Glass of House
Red or White
70kr
Bottle of Åbro Alcohol Free Beer
47kr
Book a Table or a Function
Ring 08 -641 89 28
or
Email  info@rooandelk.se
Visit us at



Folkungagatan 81
116 22 Stockholm